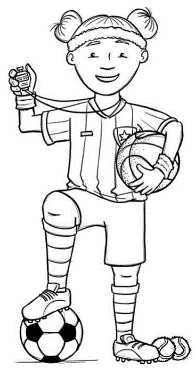 'Being an Athlete'
Curriculum Intent
At Ludwell Primary School, we recognise and value the importance of Physical Education (P.E). We aim to deliver a fun, high-quality PE curriculum that not only provides children with the basic skills in a range of sports, but also with the knowledge of the importance of living a healthy, active lifestyle.
Through extra-curricular activities and intra-school sports, we introduce our children to a range of sports that they may not normally be able to access. PE lessons at Ludwell, are based upon the National Curriculum with a clear progression structure from Reception to Year 6. This progression of skills has been planned in order to build on the skills needed to meet the end of key stage objectives in the National Curriculum.
We also strongly believe in educating the whole child. We emphasise the importance of sporting values throughout school life, including fairness, equality, respect, teamwork, inclusion and perseverance.

Implementation
At Ludwell we use 'Get Set 4 PE' as the basis of our PE curriculum.

PE at Ludwell Primary School provides challenging and enjoyable learning through a range of sporting activities.

Pupils receive two lessons a week, and throughout the year on rotation children receive lessons from a specialist sports coach who focuses on less traditional sports.

Pupils receive dance lessons from a qualified dance teacher, developing their skills in a range of dance styles.

Each lesson, children are given the opportunity to practise skills in a variety of ways and each lesson builds upon the previous skills, allowing them time to embed them.

Pupils in Upper Key Stage Two receive swimming lessons, with the aim that by the end of Year 6 all children will be able to swim 25 meters unassisted. These lessons are run in the Spring and Summer terms by qualified instructors.

All pupils at Ludwell are given the opportunity to attend after-school sports clubs. These are run by qualified sports coaches and teachers, and the sports on offer change each half term.

We take part in the School Games Sports Ambassadors programme. Each year, children attend a training day, which provides them with the skills and knowledge to promote sport in our school.

Impact
Pupils develop confidence and competence to excel.

Pupils are physically active for sustained periods of time.

Pupils engage in competitive sports and activities.

Pupils understand how to lead healthy, active lives.

Pupils are exposed to, and develop skills in, a wide range of sports.

Pupils are taught the importance of teamwork and collaboration, and work well within a team.