Online & Blended Learning
At Ludwell Primary School we believe and follow the principles of:
Article 28: children have the right to a good quality education.
Live Teaching
You will now have been sent all the log in details for your child's online lessons. All the letters sent home previously can be found by scrolling to the bottom of the page. Please do get in contact if you need any technical help. We are looking forward to seeing all the children online from Monday 11th January. Your child's class teacher will communicate with you via SeeSaw regarding the resources you will need from the packs sent home for your child's live lessons. May the Gods of Technology be on your side!
Principles of Blended Learning
Blended learning is understood as an approach that combines learning in school with distance learning, including online learning. At Ludwell Primary School, we expect blended learning to be in place so we can provide learning activities and learning opportunities through remote teaching to our pupils should any of our pupils be required to learn from home due to COVID 19.
Ludwell intends to use G Suite's Google Classroom as a platform for Blended Learning. G Suite is a set of education productivity tools created by Google and includes Google Classroom, Gmail, Google Docs and Google Drive. Pupils will use their G Suite accounts to access their Google Classroom to complete assignments, communicate with their teachers and access specific resources.
Below are the 3 scenarios which will require Blended and/or Remote Learning.
School is open and children are in class
Google Classroom may be used to support lessons and weekly/holiday homework.
2. Self-isolating (on an individual basis possibly because of close contact testing
positive)
Children will be provided with 10 days of learning that links to provision on offer in school
Teachers will upload daily core lessons taught face to face in class (Reading, English, Maths and Science) by lunchtime on the first day a student is absent. This is done by converting flipcharts into PDF or PowerPoint. Teachers will personalise and differentiate expected task to be completed.
Teachers may choose to share a Topic lesson for the week (RE or PSHE or History/Geography). It would be unrealistic to expect children to mirror the full daily timetable of a day at school.
It is important for us to consider access to resources and therefore spare exercise books and pencils may need to be sent home to support our most vulnerable pupils
Ludwell will need to have plans in place for reading at home during periods of self-isolation. We would expect teachers to send books home for pupils to read. This provision should include appropriately levelled books and opportunities to read for pleasure, just as we would in school. Additionally, we would expect that the child's reading log is completed daily.
Staff will need to ensure they maintain regular contact with families of pupils that are at home. Systems for this should be agreed at school level to ensure consistency for all families. More regular 'check-ins' should be in place for the most vulnerable pupils and schools should give careful consideration to pupils who require extra safeguarding or pupils with additional needs

This contact with families is an important way to check in on progress being made with the learning and provides an additional layer of support so families fully understand the learning expectations
If children require resources/learning to be printed, we would expect staff to co-ordinate this and deliver the learning packs in a safe way
For children who are entitled to meet the benefits related free-school meals eligibility, the school is to work with the school cook to make arrangements for this provision to continue
A review of the child's learning should be completed by the teacher when they return to school so they can be aware of knowledge gaps that exist
3. Bubble Collapse/ National/local Lockdown
As above and to also include…
Each year group will create half termly packs. These packs will be mapped out for each week of the half term and uploaded to Google Classroom. Teachers will need to complete the remote learning packs as part of their Medium term Plan (MTP). As each pack will follow the journey of the MTP, it is expected that there will be a clear teaching sequence evident and a range of subjects will be included: English/Maths/Reading/Phonics/Curriculum/Science/Art
The table below sets out the year group expectations of our remote learning approach in line with the age and stage of our children: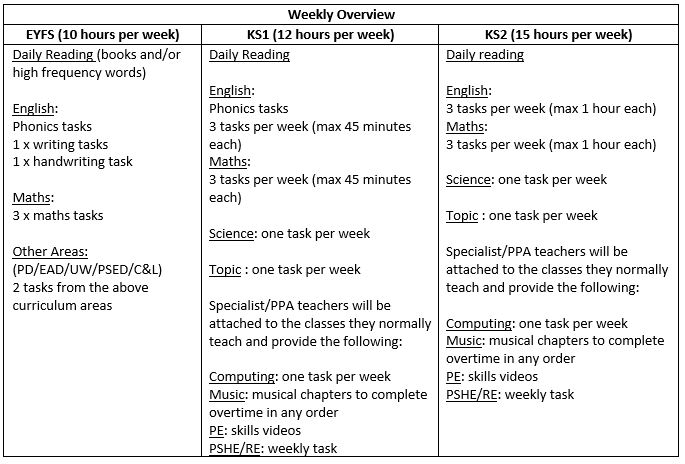 For children in our Early Years Foundation Stage, we know that learning happens best through play, where they can pursue their own interests and where they can explore, create and think critically. During remote learning, EYFS teachers will provide, via SeeSaw and Google Classroom, a mixture of short, online lessons plus ideas for practical and creative activities that children and parents can engage with at home.
These lessons will be uploaded at the start of each day by 10.00 am

Feedback will be issued on Google Classroom where children can also ask questions and help with their work.

When relevant, teachers might want to create lessons using PowerPoint and voice overs. The aim of this is to provide the children with explicit modelling and scaffolding of key concepts. The lessons will be 10-15 minute bite size chunks where key vocabulary, key concepts/modelling and scaffolds are made visible for the children.

Upon return to school, all books/learning will be reviewed by the teacher who will then adapt the mid-term plan accordingly

There should be weekly phone calls to all families with two or more weekly phone calls to vulnerable pupils

It is important that we maintain a sense of community with parents/carers and children. Encouraging and enabling interaction between pupils, parents, carers and staff can help them to feel like they are a part of a community.
Quality Assurance
The home learning will be quality assured by leaders across the school at the same time as the detailed medium term plan is being reviewed. The school leadership team will give teachers feedback on the quality of the work being uploaded on Google Classroom.
Tailoring the remote curriculum for pupils with SEND
Consideration will be given to how remote education approaches can be tailored to ensure the content is accessible to pupils with special educational needs and disabilities (SEND), including children who are in receipt of SEN support. Teachers may need to produce personalised learning packs that meet specific needs appropriately. Teachers/TAs will also be expected to make weekly phone calls home.
Including links
When planning, teachers will ensure that there is variety of online and offline resources (to support children with limited internet access). Teachers will consider that the links support the learning and and ensure that learning is not reliant on children accessing them. If the link is essential to the learning, teachers will provide screen shots/written contexts/images to support the children alongside.
Access to printers
Where possible, teachers will limit what needs to be printed as not all homes have access to a printer. They will think about ways to adapt tasks such as labelling or cutting and matching activities so that these children can still access the learning.
Parents as teachers and children as independent learners
We understand that parents are not trained teachers and may not have all the subject specific vocabulary and knowledge that the teachers at Ludwell do. We will consider how best to present the learning so that parents can be successful in supporting their child. Additionally, teachers will consider ways that the activities can be accessed by children independently and without adult support. For example, this may include a glossary of key vocabulary, a screenshot of methodology, a step by step guide and photos of modelling.
Depth and character skills
Learning should include opportunities for children to elicit depth. Examples of this may include: relating learning back to themselves and applying it to wider contexts, evaluating strategies/methods/answers, reflections using the character skills and evaluation of their own learning.